About Us
BMO Capital Markets is a leading, full-service financial services provider. We offer corporate and investment banking, treasury management, as well as research and advisory services to clients around the world.
As a member of BMO Financial Group (NYSE, TSX: BMO), we're part of one of the largest diversified financial services providers in North America with US$836 billion total assets and approximately 47,000 employees as of October 31, 2022. BMO Financial Group is the 8th largest bank in North America as measured by assets (Bloomberg, as of October 31, 2022). Learn more in our Annual Report.
We have over 2,800 professionals in 32 locations around the world, including 18 offices in North America.
*BMO Capital Markets Q4 (adjusted) net income (US) for quarter ending October 31, 2022.


BMO Capital Markets Leadership
BMO Capital Markets - Corporate Leadership
A long tradition of leadership
More than 200 years after becoming Canada's first bank, we're one of Canada's pre-eminent financial institutions, with a significant presence in the United States and world markets.
From playing a pivotal role in Canada's early history to becoming a leading full-service North American-based financial services provider, integrity and excellence remain our hallmarks.
See what we've accomplished as we continue to grow!
1817 – Canada's first bank
Bank of Montreal opens its doors for the first time, providing Canada's first sound and plentiful currency. Landmark activities include helping to finance the transcontinental railway and serving as Canada's central bank until 1935.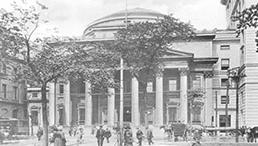 Photograph of Montreal Main Office, c. 1912
1912 - Nesbitt Thomson
A.J. Nesbitt of Montreal and P.A. Thomson of Hamilton, Ontario establish Nesbitt Thomson, a firm that becomes a household name in Canada for its role in some of the world's largest mining, resources, and hydroelectric power projects.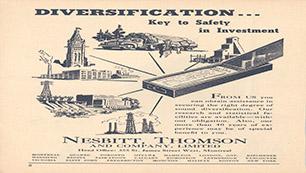 Nesbitt Thomson ad, c. 1960s
1945 - After World War II
After World War II, Nesbitt Thomson expands its operations to include such diverse industry sectors as chemicals, salt, steel, ships, farm machinery, retail stores, and a transcontinental natural gas pipeline.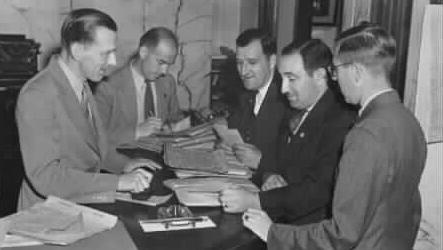 Montreal St Catherine and University Branch, men depositing coupons during the war, 1943.
1976 - Burns Fry
Burns Fry is created from the merger of Burns Bros. and Denton, known for equity trading and underwriting capabilities, and Fry Mills Spence, known for strong debt trading and underwriting.
These Toronto firms had been highly successful in the securities business since 1932 and 1925 respectively. The merger brings together a large capital base and a strong branch-office system.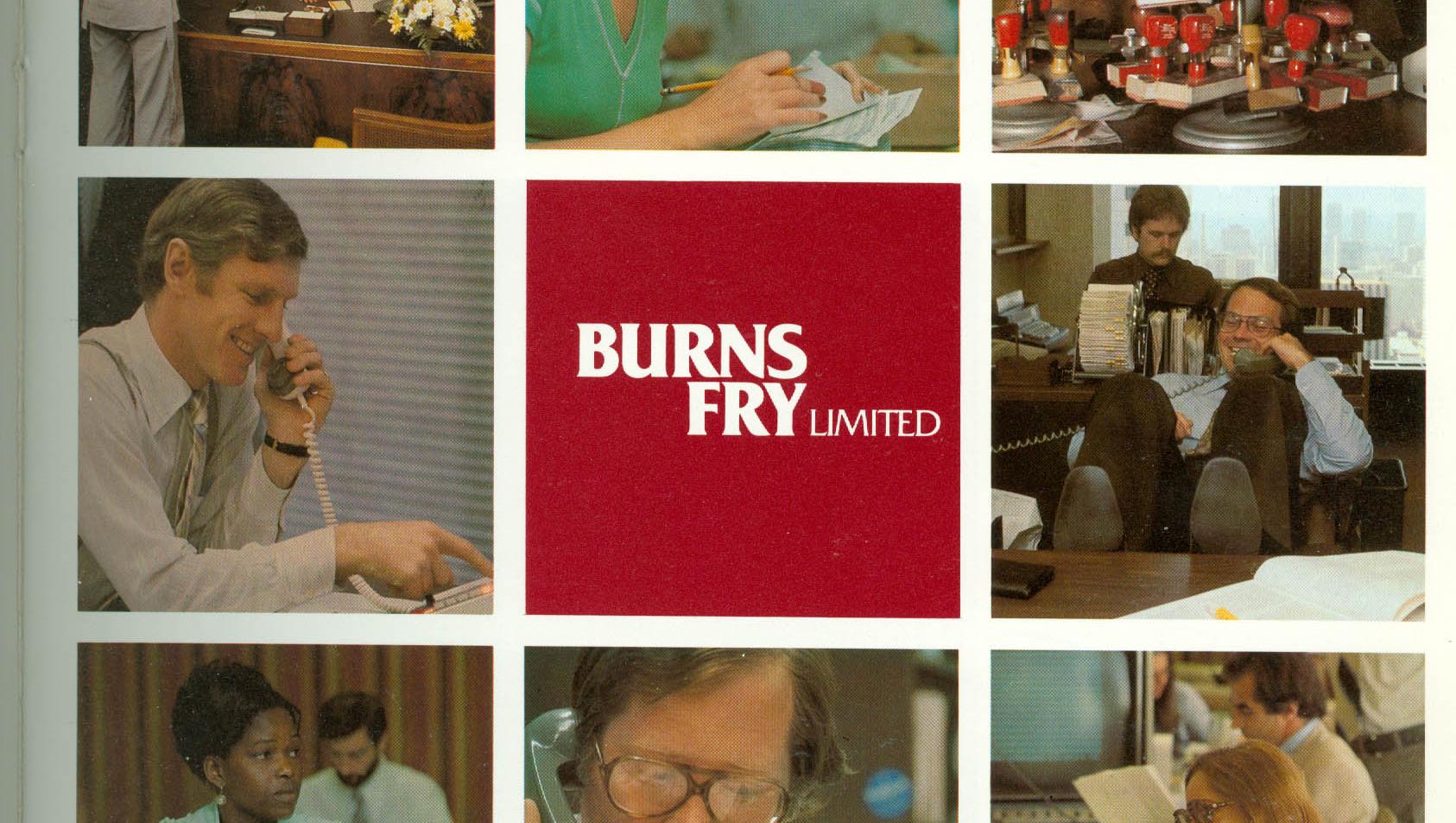 Cover for 1976 Annual Report of Burns Fry.
1987 - Nesbitt Thomson acquired
Bank of Montreal acquires Nesbitt Thomson in the first of many broker/bank mergers in the Canadian financial services sector.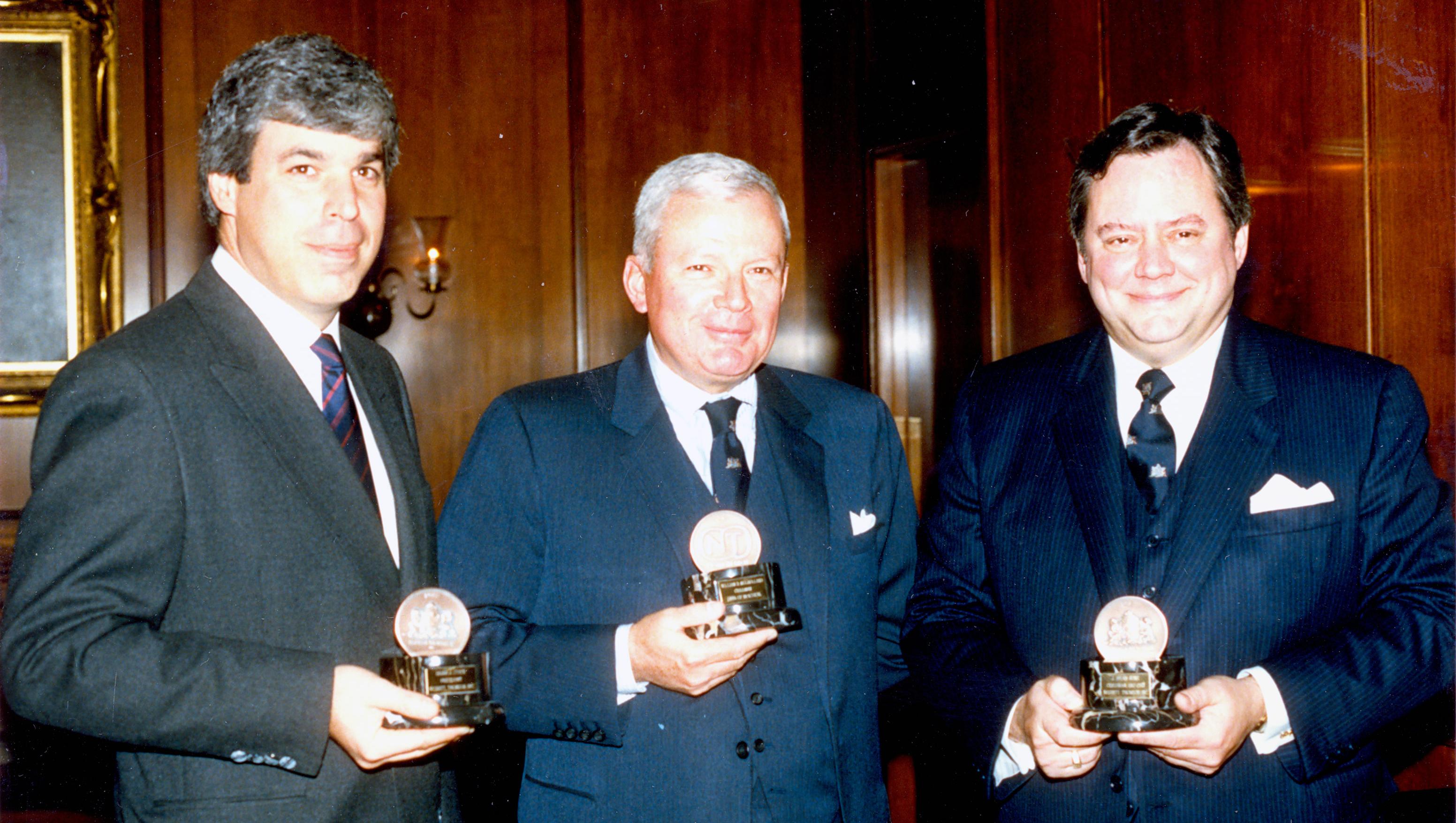 Brian Steck, President of Nebitt Thomson, W.D. Mulholland, Chairman and CEO, Bank of Montreal, and J. Brian Aune, Chairman, Nesbitt Thomson, in October 1987 for the BMO Nesbitt Thomson merger.
1994 - Nesbitt Burns
Nesbitt Thomson and Burns Fry merge to form Nesbitt Burns, one of the leading investment firms in the marketplace.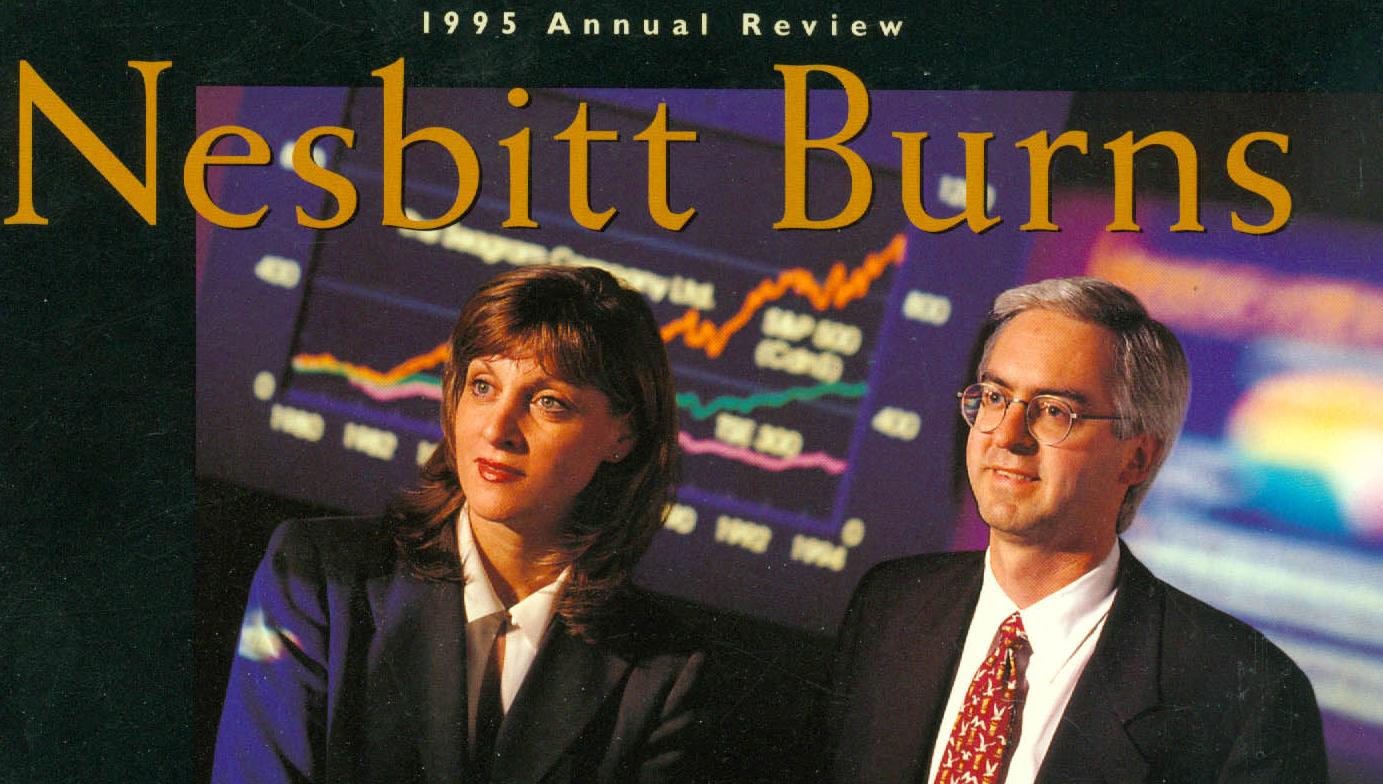 Cover of Nesbitt Burn's Annual Report, 1995.
1999 - Harris Nesbitt
The merger of the corporate banking arm of Harris Bank, BMO Financial Group's Chicago-based subsidiary, and the U.S. investment banking capabilities of Nesbitt Burns, creates Harris Nesbitt. The new firm focuses on the middle market of the U.S. Midwest.
2000 - BMO Nesbitt Burns
The "BMO" brand is added to the Nesbitt Burns name to link the firm's corporate identity with BMO Financial Group.
2003 - Gerard Klauer Mattison (GKM)
BMO Financial Group acquires Gerard Klauer Mattison (GKM), providing Harris Nesbitt with a U.S.-based equity research and institutional sales and trading platform. GKM was founded in 1989 in New York as a boutique equity research and investment banking firm serving the institutional marketplace.
2006 - BMO Capital Markets
BMO Financial Group unifies its corporate, government and institutional businesses under the distinctive brand of BMO Capital Markets.
2016 - Greene Holcomb Fisher (GHF)
BMO acquires the Minneapolis-based boutique M&A advisory business of Greene Holcomb Fisher (GHF).
Over its more than 20-year history, GHF has built a reputation for providing hands-on merger and acquisition advice to family and entrepreneur owned companies, private equity groups and public companies in the United States – a complement to BMO Capital Markets' existing M&A practice.
2017 - Celebrating 200 years
In 1817, the Montreal Bank became Canada's first bank, and went on to play a critical role in the building of a nation, its financial systems, and the prosperity of its people.
Explore some of the stories from the past 200 years that trace our growth and relationship with our customers.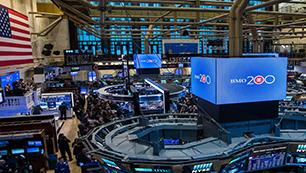 In celebration of BMO's bicentennial, Bill Downe, former BMO CEO rings the NYSE Opening Bell®.
2018 – KGS-Alpha Capital Markets
As part of our growth strategy, we acquire KGS-Alpha Capital Markets, a New York based fixed income broker-dealer specializing in U.S. mortgage-backed securities (MBS) and asset-backed securities (ABS) for institutional investors.
KGS-Alpha was rebranded under the BMO Capital Markets umbrella and integrated into our fixed income, currencies and commodities group.
The acquisition makes us a top tier broker-dealer in agency collateralized mortgage obligations (CMO's), residential mortgage-backed securities (RMBS) and non-residential mortgage-backed securities.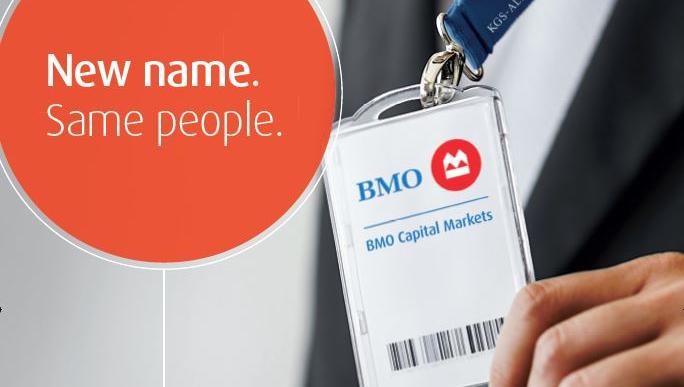 Advertisement announcing that KGS-Alpha is now officially part of BMO Capital Markets.
Conferences
Conferences
BMO Capital Markets hosts a variety of conferences each year that bring together institutional investors with corporate or government entities that need capital.
LEARN MORE
Culture
Culture
At BMO Capital Markets, we are committed to fulfilling our responsibilities to our clients, our employees and the communities in which we operate.
LEARN MORE
Contact Us
Contact Us
For more information, connect with one of our dedicated team members.
CONTACT US