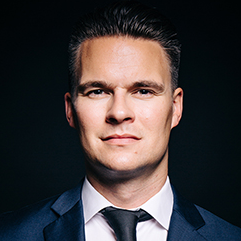 Head, Sustainable Finance, Products and Strategy
John Uhren is Managing Director and Head, Sustainable Finance, Products and Strategy, at BMO. He leads product development and strategic initiatives across the enterprise, including raising capital and providing sustainable finance opportunities to clients. John is also a member of the CSA Group's Green and Transition Finance Technical Committee.
Prior to joining the Sustainable Finance team, John was Senior Counsel and Director in Capital Markets Legal at BMO. In this role, he led Invest for Infinity, an enterprise-wide team supporting the development of ESG-themed investment products. John was also co-head of BMO's Pro Bono Committee, and in 2017 won Lexpert's Rising Star Award as a top Canadian lawyer under 40.
John founded Feet Forward Organization in 2013, a Canadian registered charity that partners with NGO agencies in South Africa to assist refugees, asylum-seekers and newly landed immigrants. He is currently a board member of Dress for Success Toronto.